Think it possible, you may be mistaken by Francis turner
In 1650 Oliver Cromwell wrote a letter to the Scottish Parliament which includes the famous phrase
I beseech you in the bowels of Christ think it possible you may be mistaken.
The entire letter is fairly short, and if a bit cryptic to the modern reader – particularly the modern secular reader – seems remarkably relevant to the current covidiocy and in particular to the current standoff in Ottawa.
For example in the letter Cromwell complains that the Scottish parliament have completely ignored what Cromwell has said and instead have claimed he said other things. Also they have spread their incorrect claims about Cromwell to lots of people including into his army.
You take upon you to judge us in the things of our God, though you know us not,-though in the things we have said unto you, in that which is entitled the Army's Declaration, we have spoken our hearts as in the sight of the Lord who hath tried us. And by your hard and subtle words you have begotten prejudice in those who do too much, in matters of conscience,-wherein every soul is to answer for itself to God,-depend upon you. So that some have already followed you, to the breathing-out of their souls: 'and' others continue still in the way wherein they are led by you,-we fear, to their own ruin.
And no marvel if you deal thus with us, when indeed you can find in your hearts to conceal from your own people the Papers we have sent you; who might thereby see and understand the bowels of our affections to them, especially to such among them as fear the Lord. Send as many of your Papers as you please amongst ours; they have a free passage. I fear them not. What is of God in them, would it might be embraced and received!-Oneof them lately sent, directed To the Under-officers and Soldiers in the English Army, hath begotten from them this enclosed Answer; which they desired me to send to you: not a crafty politic one, but a plain simple spiritual one;-what kind of one it is God knoweth, and God also will in due time make manifest.
This seems not entirely dissimilar to the actions of the "Despicable Ken Doll" a.k.a. the Canadian Prime Minister. PM Truck Frudeau has said he will not be inimidated, will not negotiate or concede and instead has claimed that the truckers are a REEE *ist *phobic etc. fringe movement while presenting absolutely no evidence that they are. This is transparently false and the only people who can't see it are those who can check for polyps when they open their eyes.
Refering to the protests as a fringe is obviously laughable when opinion polls show that about the same proportion of Canadians agree with the protest as voted for the Turdeau's party in the last general election. The REEE claims are also REEEEsible. If one goes to alternate media sites and youtube channels one sees that the protesters are a cross section of working Canadians of all races, both genders etc. and that the only thing they want, for now, is to stop the mandates and vaccine passports.
That's not the only similarity. In the letter Cromwell then states fairly directly that if the Scottish Parliament doesn't accede to his wishes and decides to fight, his army will defeat them.
[In that he was completely correct as a month or so later he killed or took prisoner about half the Scottish forces at the battle of Dunbar and in typical Cromewellian fashion showed no mercy to the prisoners who were marched with limited food or medical attention to Durham in Northern England and then the survivors of that march (about half the original prisoners) were eventually sold off to the New World as indentured labourers (a.k.a. slaves – and not a single one of the African persuasion). After that it took him a year to comprehensively defeat the Scots and a few foolish English Royalist allies, culminating in the Battle of Worcester, which Charles II survived by notoriously hiding in a large oak tree]
At this point the truckers are likely to show more mercy that Cromwell would, but then, unlike Cromwell they haven't yet experienced several years of fighting as Cromwell had, let alone suffered a few months of hunger and disease (plus to be fair, they aren't religious nutters like Cromwell either)
There is no doubt in my mind that at this point Justine and his deep state friends have the best offer they are going to get. Indeed it is notable that as the days go by demands are growing for more things like the resignation of Turdoh and the relaxation of a ton of other wuflu restrictions that were not present in the initial demands. Yet they don't seem to grasp this and instead have doubled down on the insults. They've lied, they've prevaricated and claimed that they are the sole source of truth and ignored all the voices suggesting that they are wrong. As Cromwell puts it:
Your own guilt is too much for you to bear: bring not therefore upon yourselves the blood of innocent men,-deceived with pretences of King and Covenant; from whose eyes you hid a better knowledge! I am persuaded that divers of you, who lead the People, have laboured to build yourselves in these things; wherein you have censured others, and established yourselves "upon the Word of God." Is it therefore infallibly agreeable to the Word of God, all that you say?
And then comes the famous line:
I beseech you, in the bowels of Christ, think it possible you may be mistaken.
All the Canadian leadership have to do is do what the Scottish parliament would not and implement what the protesters want them to do. If they do that they get to keep their jobs, their pensions and their lives. But doing so requires a certain humility and willingness to admit error. It's ironic really that they are choosing to fight this battle because the scientific evidence suggests that the wuflu is no longer any kind of threat to global health. Hence other, more science-literate authorities are removing mandates and rules – Israel, the UK, Sweden, Denmark …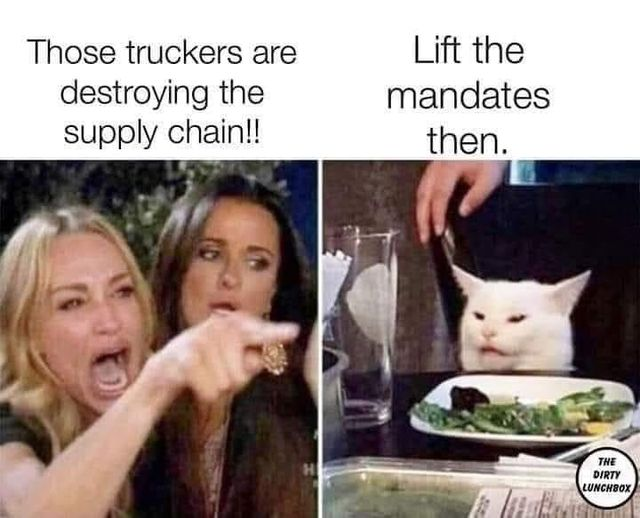 The Scots wouldn't do that in 1650 and it looks like the Duplicitous Ken-doll and his buddies won't either in 2022. Because to do so would mean a loss of face, and now that the protests have spread to other nations, if one political leader submits all the others face greater pressure to. So they resist. Like the Scottish parliament. And they will reap the consequences like the Scots did too.
Probably, also like the Scottish parliament, they will go on purges to remove from their ranks of minions anyone who suggests that maybe they ought to reconsider. In the Scots case that was a significant number of their experienced military leaders (and probably individual soldiers, though no one mentions them). In the current scenario it's going to be the competent police chiefs and officers, who are the precisely the ones that will be needed to perform the removal of the protesting vehicles.
This is a problem for the authorities. As this screencap which has been circulating recently points out: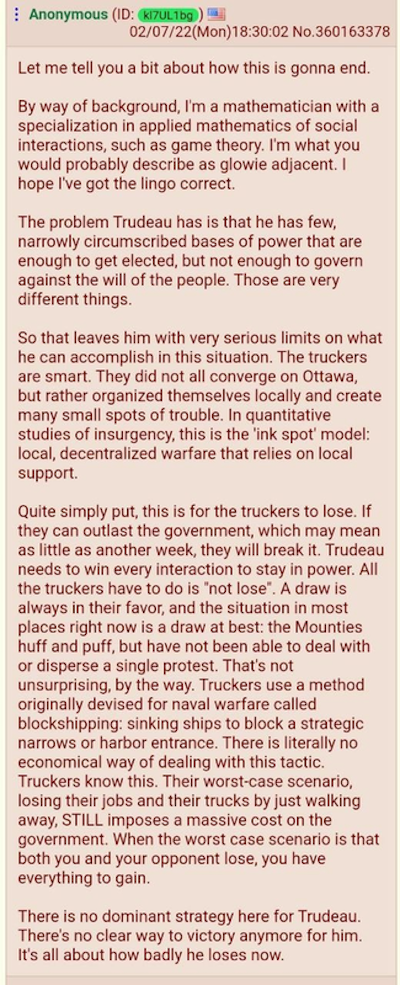 There have been a lot of similar points made on the non-corporate controlled parts of the web and even (amazingly) in the BBC's coverage.
The stand-off has created a tough choice for local towing companies.
Their heavy tow trucks, commonly known as "wreckers", can ostensibly help clear the roads, but trucker Doug Rowland says many may be reluctant to get involved for both political and practical reasons.
"A lot of towing companies consider themselves truck drivers as well," he explained.
According to him, even large to mid-sized towing companies might own five wreckers at most, often at hefty price tags ranging from $300,000 (£221,000) to $1m, so smaller companies are likely to avoid a hostile situation that could damage their expensive equipment.
Further logistical difficulties arise from the sheer number of vehicles involved in these protests. They can weigh 20-30 tonnes depending on the load.
Each truck requires its own wrecker and hooking up a wrecker to a truck takes about an hour, assuming the driver is present and co-operating.
"If the trucker is not co-operative, it probably takes an extra 15 minutes or half hour because you don't have access to the cab, the inside of the truck," said Mr Rowland.
And that doesn't get to the deliberate sabotage options. 20+ tons of metal on deflated tires with the valve stems cut and then (not before as a certain Harvard prof recommended) with the tires slashed is not going to move easily even once you have disconnected the air brakes. Especially if someone has also removed, say, critical bits of the engine or axles. It will take hours for experienced workers to move such a truck. It will take days for inexperienced ones to do so. And there's far more than one truck at each protest.
Thus when newspapers like the NY Slimes and bluecheck experts on Twitter insist that the True D'oh and his minions quash the protests they demonstrate their lack of familiarity with large vehicles, physics, scheduling, logisitics and so on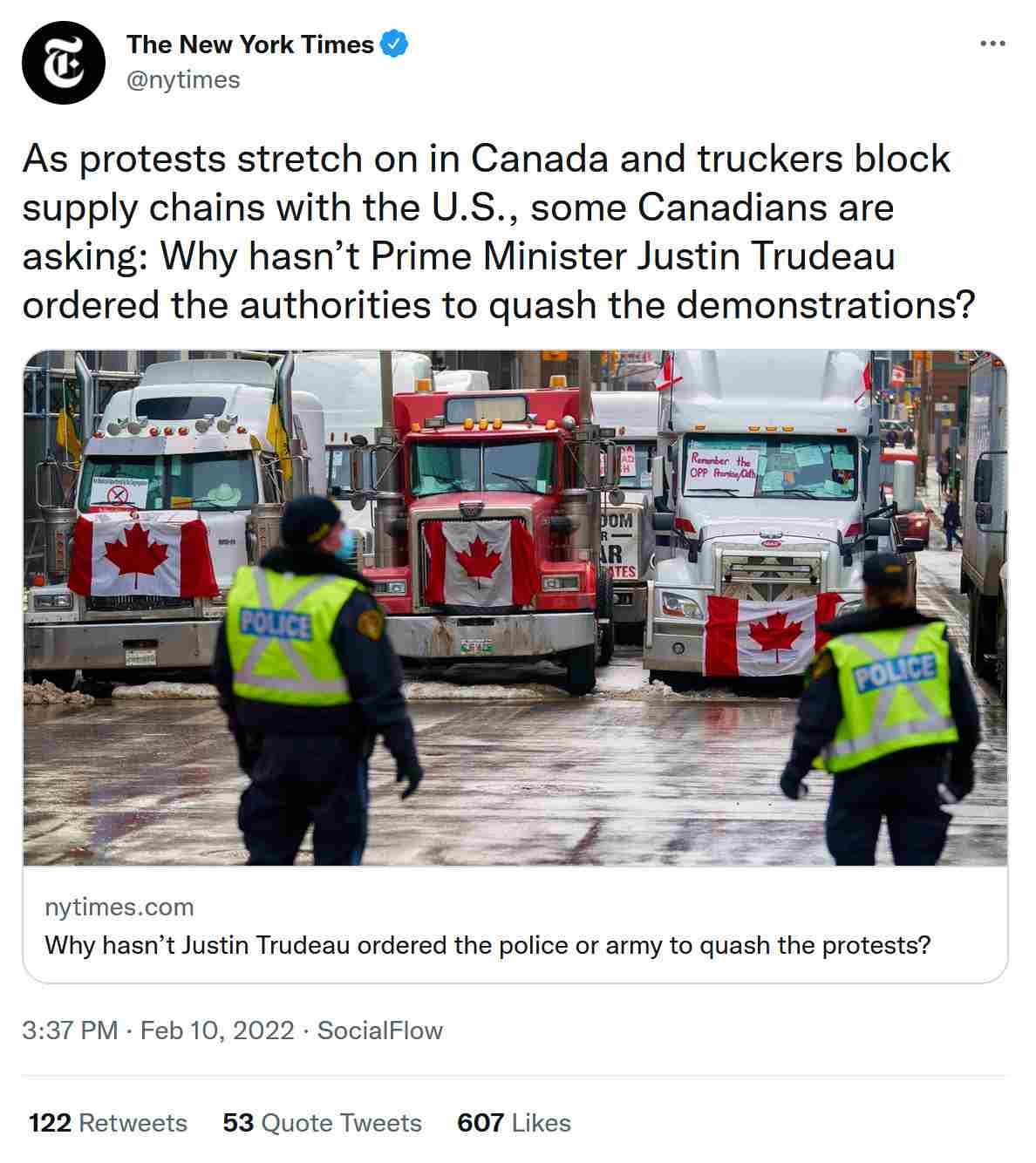 The way this is going to be resolved is for Justin Castro to admit he was wrong and to stop madating vaccines, masks and other covidiocies. He can do it now while the Canadian (and Nothern US) economy is reasonably healthy or he can do it later when there has been a ton of economic disruption. Or someone else can do it after he ceases to be Prime Minister. The fact is that this is clearly not a few fringe nutters, it is a significant fraction of the population.
Moreover (unlike Antifa and BLM) these protesters are actually critical to the nation. If you put BLM and antifa in jail all you do is deprive a few cafes of the barristas and lecturers of their students neither of which affects anything critical. If you put 10% of your truck drivers in jail when you already have a critical shortage of truck drivers you are going to screw things up. You can't win this war, all you can do is lose less horribly.
Fundamentally Justin, it all boils down to this:
I beseech you, in the bowels of Christ, think it possible you may be mistaken.