The View From Rural Japan – a Guest Post By Francis Turner
As the real wuflu pandemic fades away, even though the control freaks try to keep the fear alive, it's probably useful to look at how the wuflu affected places not covered by the news. As it happens I have had a ground floor view of how the wuflu and associated covidiocies affected rural Japan because I live in Shimane prefecture – in Western Japan.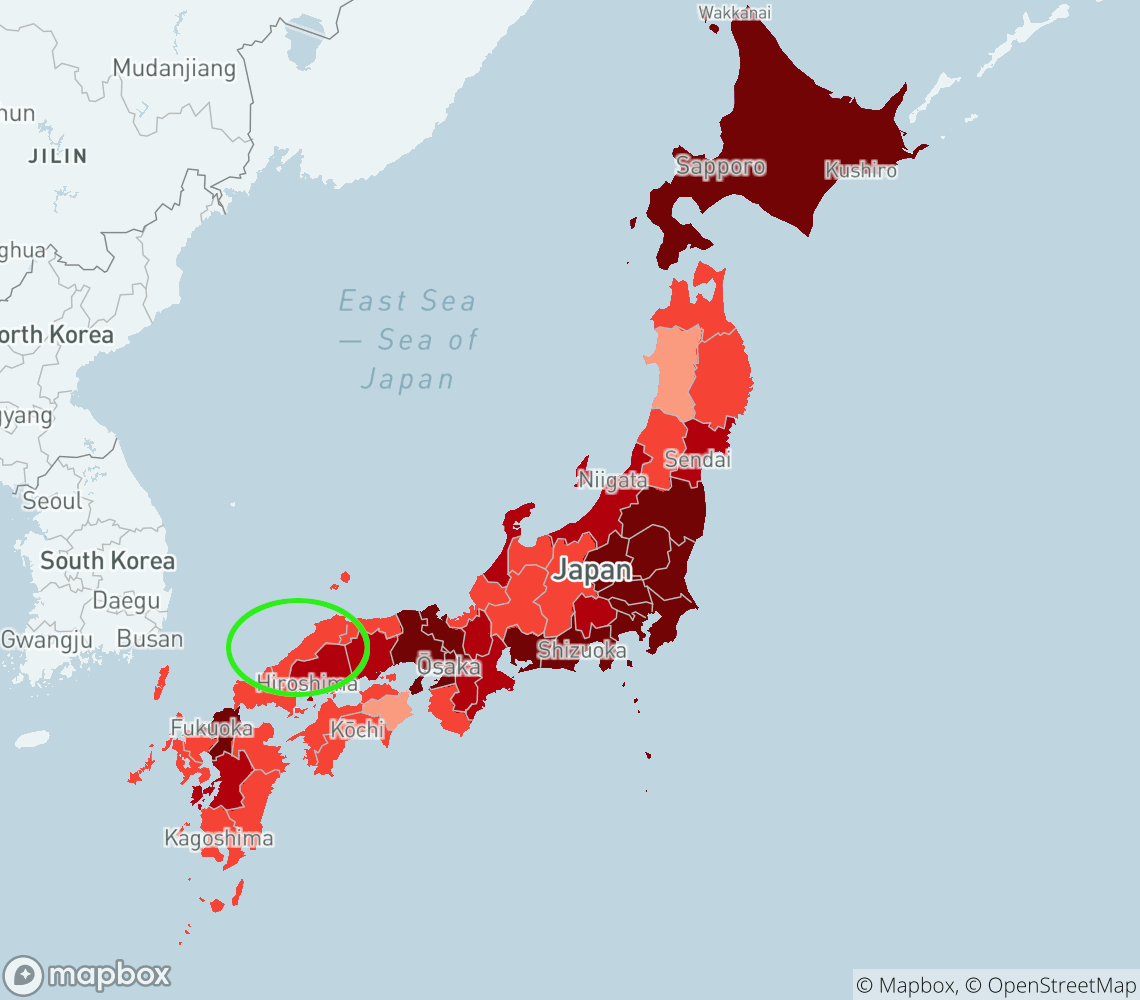 Compared to many places Shimane has been barely affected by the wuflu in direct terms. I think we're still at way under 1000 cases (~800?) and 2? deaths. In other words more people in Shimane have died from house fires or traffic accidents than the dreaded wuflu. Looking back to early 2020, Japan was where we saw the first wuflu cases in a controlled non-communist place – to whit the Diamond Princess. Possibly as a result of that experience, possibly as a result of other, things Japan has generally speaking had a remarkably low number of wuflu fatalities and not that many cases. Shimane (pop 650k), has as I noted above, effectively no cases with cumulative infections in the 0.1% range and serious illness/death being a rounding error. Japan as a whole isn't much worse: deaths are currently around 15,000 total which works out at a bit under 10/100k population and total cases are about 1 million which is under 1% of the population. I know a handful of people outside Japan who died of/with the wuflu and more who have had the disease badly enough to require hositalization. I know of no one in Japan that has had a positive test.
One of the key differences between Japan and most other countries is that most things did not "lockdown", and to the extent that there was a lockdown it was either short-lived, local or both. This doesn't mean that widespread covidiocy has not occurred (and is not still occurring) but the national government has not ever told the entire country to cower at home the way governments in Europe did. To the extent that the country did "lockdown" in April 2020, with almost all schools, restaurants and bars closed (along with various other offices), it was temporary and did not last beyond mid May. It may have been slightly more than "15 days to flatten the curve" but it wasn't more than 45. That national kind of lockdown has never been repeated and the lockdown as a whole has been a lot less that that seen in other places such as Europe. Even in regions where "states of emergency" have been declared – Tokyo and environs, other urban prefectures mostly – most people worked most of the time. People have been encouraged to maintain "Soshiaru Distansu" and to "Terewaak" where possible, so the hordes of Salarymen (and women) commuting to the office has dropped dramatically. The floods of salarymen going out in the evening with colleagues to get drunk together on expenses has shrunk to a trickle, and in fact large chunks of the travel/hospitality sectors are on life support, but factories, warehouses and so on have generally remained at full activity, so Japan has not see the massive drop in GDP etc. that we have seen elsewhere.
In late March-May 2020 most (all?) schools in Japan closed for a few weeks (though April was also the spring vacation so the total time closed was probably three weeks or so) but sanity prevailed and they have not generally shut again – some individual schools that have been the center of a "crustaa" of cases have partially or completely shut for 14 days to cut out the cluster. Here in rural Japan
..the whining schoolboy, with his satchel
And shining morning face, creeping like snail
Unwillingly to school
has been a constant after May 2020, just as it was in the past. Admittedly now the schoolboy (or girl) will typically be wearing a face mask (often around his or her chin) while creeping like snail but that is about the limit of the impact. School and after-school activities like baseball or band practice have continued, exams have taken place as normal and so on. This year graduation ceremonies took place (with spacing and a lack of parents to applaud). Last year key inter-school competitions like the national high school baseball championships were either cancelled or took place in a much reduced form. This year, despite a recent rise in cases, the events are taking place more or less as normal though I believe there are limits on the numbers of supporters allowed to attend.
In other words, and this pretty much sums up Japan's general reaction to the pandemic, the wuflu has only been allowed to nibble at the edges rather than take over the entire culture.
Personal Experience
So what does that mean to someone living here?
Mostly little change beyond the universal mask wearing virtue signalling and related pointless sheets of vinyl/perspex everywhere. Every business has a bottle of alcohol to spray over one's hands as one enters and many people take advantage of it. Many public places also have an automated temperature taker thing at the entrance and you get a bing as you enter. As with the alcohol rinse this is semi-optional in that I've observed people skipping the scan and not being told to go back and do it, but most people comply. I think a lot of this is communal virtue signalling: the business shows that it cares not to infect its customers and the patrons show that they don't want to infect the business or other patrons.
Masks are universal in public places but discipline in general is sloppy and getting sloppier. The local Kuroneko Yamato delivery bloke (delivering Amazon etc.) has his mask below his nose if not around the chin and he doesn't care that the person he delivers to has no mask on at all. People walk around shops with their mask below their nose. People take their masks off when they are served the first drink in a restaurant and never put them back on until they leave. Last year people out hiking in the mountains often wore a mask, or put one on when passing another group of people, this year we just say "konichi wa". And so on. Masks were worn a lot more seriously 12 months ago, now it seems like most people are just going through the motions, which is something that outsiders won't realise when looking at the statistics.
Mass events (theatre performances, sports events) have mostly resumed in 2021 after being cancelled in 2020 – some (e.g. baseball) resumed in September/October of 2020 and despite waves of increase in 2021 most have continued to occur with an audience throughout 2021, though not in places like Tokyo. In fact that's been typical. More spectator events take place in smaller towns than in larger cities. One notable example was the Olympics where events in Tokyo had no spectators but those in more distant locations (e.g. the marathon in Hokkaido) did. This is actually logical given that the Wuflu has spread much more in the larger conurbations and is an example of the Japanese government's general decentralization of health to prefectures and municipalities. Shockingly Japan has figured out that rules for densely populated Tokyo (16,000p/sq mile) make no sense in Shimane (<50p/sq mile) and has in large part left it up to the local governments to decide what health/quarantine measures should be applied.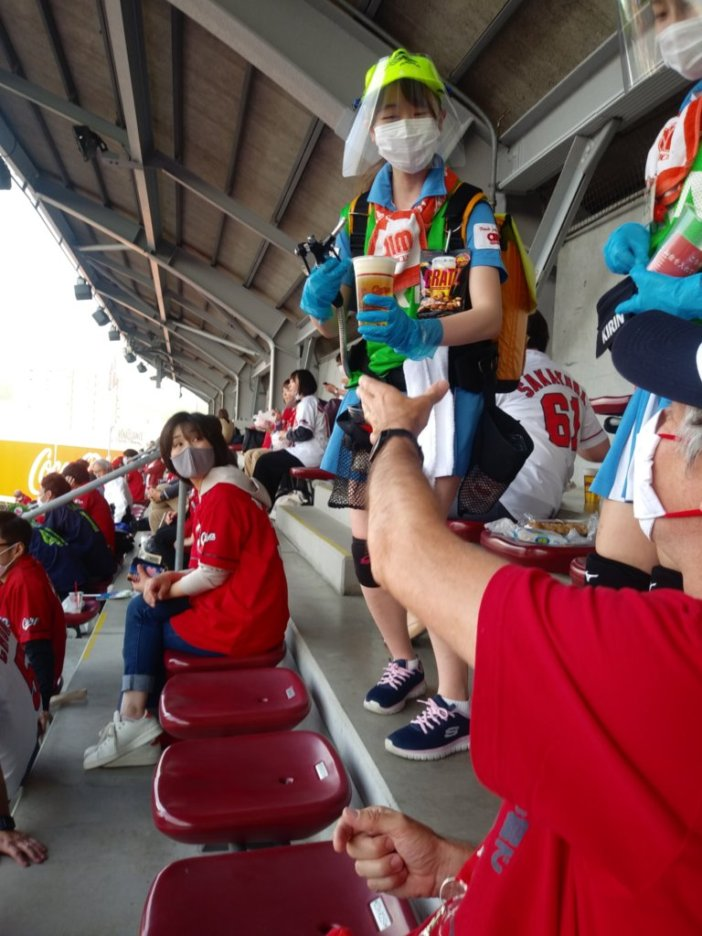 Back to mass events. Typically these mass events have a reduced audience with one seat in two kept open to do the social distance thing and everyone has to have their temperature taken by one of the scanner gun things on entering. Inside everyone in the audience wears a mask (when not eating or drinking) no matter whether the event takes place in a small auditorium or a large open-air baseball stadium. The singing at sports events has been stopped, which is a pity, but at times/places without a specific state of emergency, that, the masking and the limited capacity are the only differences to pre-Wuflu. At baseball, the beer girls still deliver and despite the pleas to not crowd, fans leaving the stadium are just as packed together as normal. Some events insist that you give contact details which I'm pretty sure only have maybe 50% compliance with regarding an accurate name/address etc. I'm not sure what the Japanese equivalent of Mickey Mouse is but I suspect he's been attending a lot of events.
There have been zero supply chain issues for daily goods, after the brief toilet paper panic in early 2020 (February) and the subsequent mask shortage (March/April 2020). Some more specialized goods are harder to get (e.g. certain bicycle components and frames are not always available, just as is the case in other parts of the globe) but we aren't seeing any obvious inflation or increases in prices. Having said that though, gasoline and diesel have gone up in price after being unprecedentedly low in 2020. Prices at my local "gasoline stand" are now ~150Y/liter which is a significant rise off their lows a year ago of around 120Y/L and slightly higher than they were in late 2019 (IIRC ~145Y/L)
Really in Shimane, the main difference between now and 2019 is the lack of tourists which brings us to…
The Leisure Sector
Travel, hotels, restaurants, bars and so on are the sector that has really been hit hard by the wuflu. Basically package tourism stopped dead in April 2020 as did business travel and most business entertainment and none of that has come back in the year plus since, with the partial exception of a few package tour trips briefly between waves of wuflu. A number of leisure sector businesses, mostly ones run by elderly proprietors, shut in April 2020 and have never re-opened. Many bars/restaurants have come up with takeout menus and local craft breweries and sake makers have aggressively moved into online sales. Many larger establishments are also struggling and have cut employees. Both JAL and ANA seconded a number of their ground staff at local airports to other organizations and the local Matuse area bus/taxi/rail company Ichibata has had big problems and may eventually go bust because it has seen its tour bus and other tourism related business fall off a cliff. I'm sure other companies that I haven't seen in the news have also had problems but the large hot spring resorts (e.g. Tamatsukuri Onsen in Matsue) were in the news last the winter noting their lack of customers.
To their credit the government, both national and local, have realized that there is a problem and come up with ways to try and soften the blow. The main thing they did last year was provide various ways to subsidize people going out and eating/drinking/staying at hotels. The schemes have differed in precise implementation but essentially as a customer you buy several thousand yen of coupons with a discount of somewhere between 20% and 60% which you then spend at the leisure establishments of your choice. Interestingly some schemes have had two discount components. First you get a discount purchasing the coupons or booking online using special booking codes, then once you arrive at your destination you get a few Y1000 vouchers (the number depends on the campaign and the amount of the booking) that you have to use before midnight the following day. The vouchers are usually redeemable at the hotel/ryokan for drinks or souvenirs (omiyage) and may also be used at other places too such as (some) local convenience stores, souvenir shops etc.
I have no idea how well this has worked generally but it certainly incentivized the wife and I to do more weekends away than we might have done otherwise and from observation we are far from alone in so doing. We've also tended to go up market a bit (e.g. we went to a posh Tamatsukuri ryokan in February which would normally be well out of our price range, but with the various subsidies was now nicely affordable) and in total have probably spent more money on domestic tourism and entertainment than before. On the other hand I've had zero business trips and zero foreign business/leisure trips so we're probably still spending less in total.
As I understand it various local governments have also spent wuflu funds directly subsidizing the salaries of some travel company employees by having the employees seconded to their tourism bureaux. Unlike countries such as the UK where people have been paid to stay at home, in Japan these seconded personnel have had to do things. Some of it may be a bit make-worky (e.g. tarting up a local airport) and the work may not be quite as strenuous but overall the principle has been that you have to show up and do something to continue to get your salary.
Overall I think this approach has been pretty good. I know there have been establishments that have fallen through the cracks; for example the large chain izakayas for example have generally reduced their numbers of employees because even with the incentives to eat out they haven't seen enough custom to make up for the lack of business boozing, but no scheme can be perfect. However in general the schemes have kept the majority of the leisure sector alive and the incentives have been well targeted to keep most people in the sector doing more or less the same job they were always doing at more or less the same wage. As a result, combined with the fact all other businesses have continued as normal, there has been no need for secondary fixes such as eviction moratoria for lack of rent payment because almost everyone has still kept their job and thus the ability to pay rent. I'm sure a number of tour bus drivers have taken jobs driving delivery trucks and I have no doubt that a number of people that worked as waiters or similar have redeployed to deliver food and, as noted above, there are certainly a fair number of small establishments that have gone for good but there hasn't been the mass dislocation that I understand to have occurred in other countries.
From the news (I can't personally confirm) it seems that people are now flying within Japan in fairly large numbers for the first time since early 2020. This is a difference between now and early May. Then we had to attend a funeral in Tohoku at short notice and, despite it being "Golden week" – normally a time when every flight / hotel etc. is fully booked – we were able to book flights, rental car and hotel with no problem at all despite the lack of notice. If the funeral were occuring now I suspect things would be rather different.
Vaccines and Recent Developments
Unlike the UK, USA and Israel, Japan has been fairly slow to vaccinate. It has, however, followed much the same strategy of vaccinating the healthcare sector and the vulnerable elderly first and then moving on down the age cohorts. Although things got off to a slow start for any number of mostly bureaucratic reasons, the organization seems to be pretty good and the program is now chugging along solidly. Since this is a public health matter implementation has been local. This has led to some differences in speed of vaccination. For example the town my in-laws live in vaccinated essentially the entire population of the town by the end of May, while the city I live in has yet to vaccinate most people under 60. As far as I can tell Japan as a whole has now vaccinated pretty much everyone in the health/elderly care sectors and everyone who wants a shot who is over 60. It's probably more like everyone over 55 and it looks like it everyone over 40 or so will have had the opportunity for at least one shot by the end of August and be fully vaccinated by late September.
There has been a certain amount of vaccine skepticism. The Japanese have historically not been very trusting of vaccines and this has spread to the Wuflu ones. One of the reasons why vaccination took so long to get started was that the government insisted on additional trials in Japan (another, allegedly, was that the Japanese companies that make the needles and syringes, after making sure that no unreliable Chinese needles would be used then failed to ramp up their own production) but take up among the elderly has been very high. It looks like, as with other countries, take up amongst the younger generations will be lower.
Happily there does not seem to be a serious push for mandatory vaccine passports or mandatory vaccinations (an optional vaccine passport for international travel is available). In fact overall the Japanese government bodies have treated their citizens as intelligent people who can make their own mind. Data on cases, deaths, hospitalizations etc. have been made available and there are a number of good governmental places with collections of statistics. Most are in Japanese of course but Tokyo, thanks to it's relatively large population of foreigners, has a nice English language site with most of the relevant stats for Tokyo. The treating of the population as grown-ups is probably another difference between Japan and most other places and it is, I believe, the main reason why the current round of states of emergency in Tokyo, Osaka etc. is being somewhat ignored.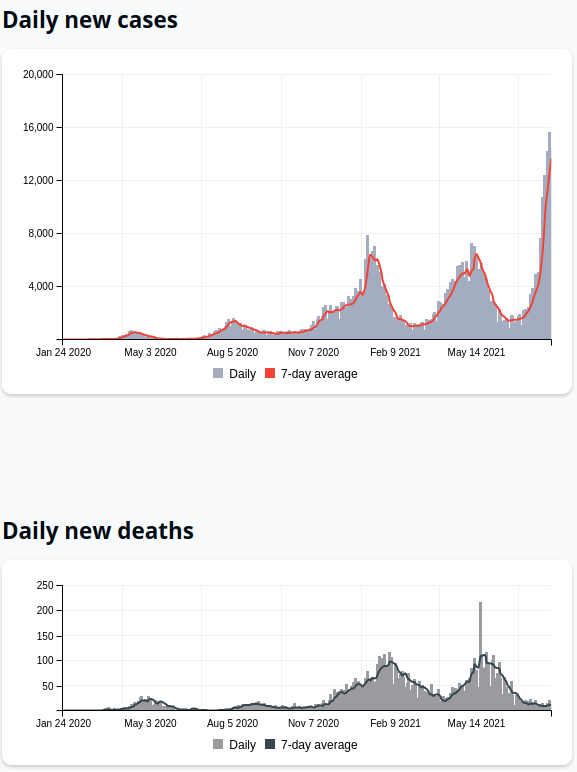 The reason is summed up in these graphs above from covid19japan. Despite an ongoing rapid spike in cases deaths remain under about 20/day.
Aside: It is worth considering how Japan compares with other countries. Japan is now seeing ~15,000 cases a day. This is 10/100k of the population more or less and yet is the worst it has ever been. Compared to almost any other country that is exceptionally low as in about an order of magnitude lower than other places. For reference the UK, having recently seen a large FALL in cases, reports (according to the official gov.uk website) about 270/100k
Back to Japan. If you dig into the Tokyo numbers you see that the same disconnect between deaths and cases also applies to hospitalizations.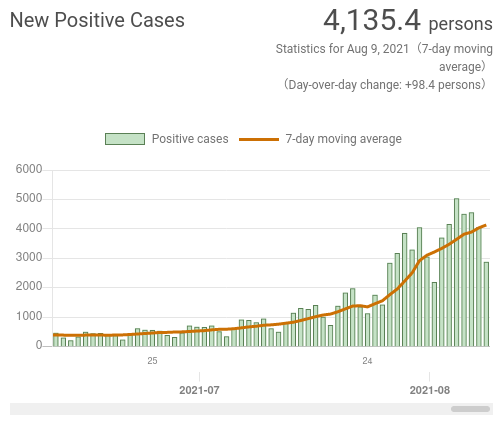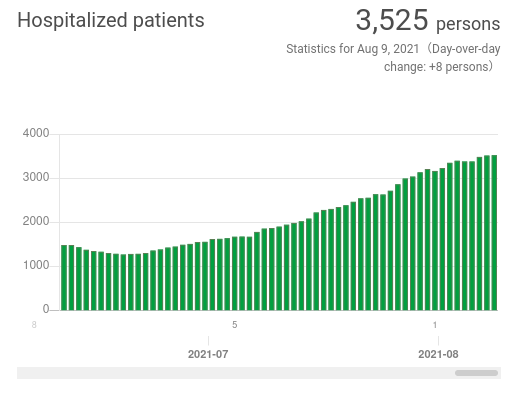 Hospitalizations have slightly more than doubled since the start of July while new infections have risen eightfold. A similar metric applies for "Patients with severe symptoms" which have tripled to a massive 150 out of some 35,000 people currently considered to be infected.
Another graph (from Tokyo, but in Japanese) shows the breakdown by age decade and week (up to the week including July 27).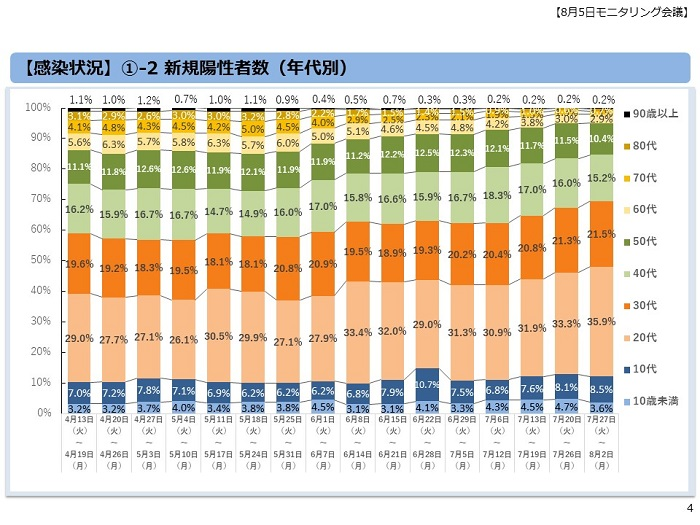 The yellow (and black) are the over 60s to over 90s. In April these ages were about 15% of the total infected, by the end of July this fell to about 5% and a graph I saw on TV but can't find online had that number dropping even lower in the last 10 days or so. Since the over 60s are also (as with other countries) about 90% of the seriously ill and dead, if the numbers of over 60s who are infected remains low then so do deaths.
It seems to me that the Japanese, particularly the younger Japanese are basically done with Covidiocy. Yes they'll conform to social norms and wear some kind of mask when out on the street, but in a more private setting like a favorite bar or karaoke box, they discard the masks and the norms. Given that these places tend to be precisely the places that are ideal for the virus to spread (enclosed, crowded, poorly ventilated…) it is no surprise that cases are increasing. But since the elderly are vaccinated, even if they are catching the Wuflu they aren't generally getting seriously ill or dying. This is undoubtedly due to the fact that the majority of susceptible individuals (i.e. the elderly) have been vaccinated and I suspect that the younger Japanese have consciously or subconsciously figured this out.
Lessons from Japan
Some people may look at Japan and draw the conclusion that masks work because masks have been universal. I'm not sure that is necessarily the case, but I think the attitude behind the (original) universal masking may have been key. That attitude was basically to avoid the three Cs in the illustration below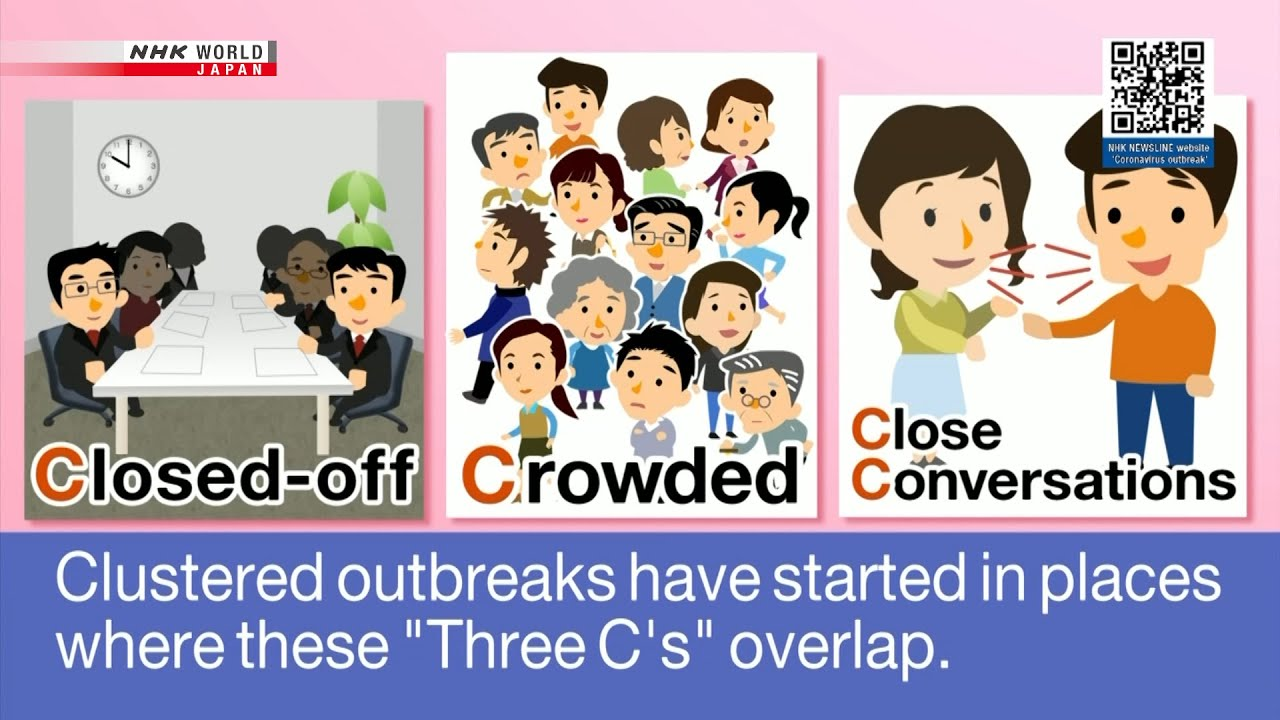 Also my personal observation suggests that people who worked around the elderly were particularly rigorous in avoiding potential infection and they did test/self-isolate if they thought they might have been infected. They also appear to have taken hygiene and disinfection really seriously. They sanitized surfaces, the washed hands, they took care not to cough on their charges (or indeed anywhere in the vicinity) and so on. Relatedly, unlike New York (or the UK), old people who tested positive were hospitalized in isolation units and kept there until they were either dead or recovered instead of being discharged back to a care home or similar. In fact hospitals isolated all wuflu cases and took great care to not have the infection spread in them too. Thus, although elderly people did catch the wuflu, the infections were one-offs and did not lead to mass infections of other elderly.
In other words (see the graph above about Tokyo infections by age group), everyone tried to keep the elderly from getting infected and most people tried to limit spread by not hanging around in places where the virus could spread.
I do think that there are probably other reasons too. Japanese people, including elderly Japanese people, have fewer comorbidities than others. They tend not to be fat, diabetic or other health issues that are known to be predictors of serious wuflu infection. Indeed Japanese are on the whole more active and spend more time outdoors than other places I have lived so being low in vitamin D is rare. I suspect that the Japanese diet may help too. The wuflu has tended to kill people with "one foot in the grave". Japan has more centenarians than other countries and way more healthy active old people and comparatively fewer with "one foot in the grave". I suspect that these are related to the lower levels of wuflu infection.
It is possible, likely even, that the Japanese total infection rate is higher than the statistics report. However I suspect that while there may have been asymptomatic cases, I suspect that because of all the hygiene and 3Cs avoidance, most of these hypothetical asymptomatic cases will not have spread the virus to anyone else. Although there have been a few cases of senior politicians etc. breaking their own wuflu restrictions, in general neither they nor anyone else did break the guidance last year. The government didn't ram through unconstitutional lockdowns and it didn't issue hysterical ever-changing guidance. Instead, it asked the Japanese people to think of others and, in very large part, the Japanese did. There may have been a fear of being shunned for spreading the virus to help incentivize voluntary compliance but Japan is a very high-trust society (yes you can lose your wallet on the street and get it back with all its money in it) and so people have been able to trust that everyone around them has been following the guidance.
Conclusion
I do think that the current rise in cases is because people have simply stopped following the guidance so strictly and I think the reason for that is that there has been a general realization that if they get ill they won't kill grandma anymore. I also think that this realization is essentially correct because we're seeing very much the same sharp rise in cases without similarly steep rises in fatalities or hospitalizations elsewhere too. If the politicians have any sense (and evidence to date suggests many don't) they'll announce that restrictions are no longer necessary and try and get ahead of the crowd.