SVB – A Guest Post by Francis Turner
As anyone paying attention to the news knows, SVB went titsup.com at the end of last week after it was hit by an absolute classic bank run. Err Ooops. The big question now is whether the US government / regulators can stop other banks also failing too. Based on some things I've found I'm not sure they can do it with what they have announced now, though they may be able to correct that.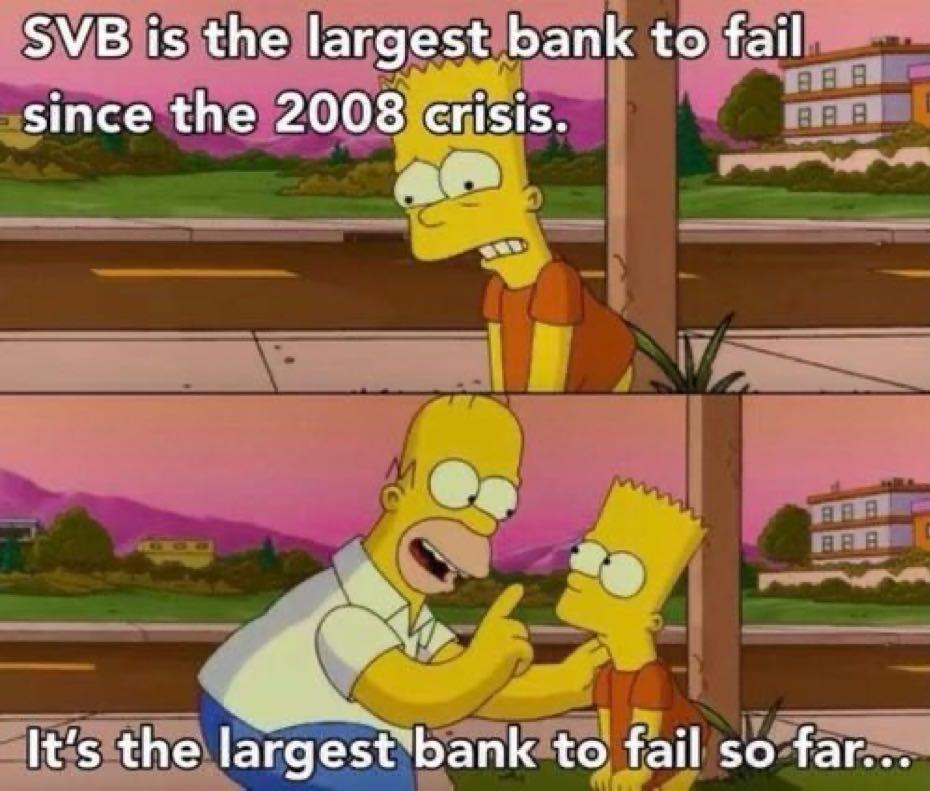 There are various reasons for this failure but I believe that two key ones are (US) government actions (and inactions) and right on wokeness. The wokeness almost certainly meant that SVBs management was filled with diversity hires rather than nerds who could figure out that critical assumptions were no longer true, but the critical assumptions changing was entirely caused by government and in particular by the covidiocy. It also did not help that US regulators, thanks to lobbying from SVB and pals, did not make it, the 16th largest bank in the US, comply with many of the regulations put in place by the Basel III agreements in response to the 2008 financial collapse (archive: https://archive.md/hrQ7p ) but for the most part SVB did what it was expected to do (including all the DIE wokeness stuff) so that's not necessarily a cause of the failure.
The wokeness link above shows the wokeness and virtue signalling side of the problem (and notes that the C-suite was distinctly white and male so the wokeness only went so far) so I'm not going to go into that area. Plus it is of course hard to prove that some black lesbian middle manager in the risk department and xer excitingly genderfluid and racially diverse colleagues were not smart enough to read the tea-leaves earlier though one suspects that this is likely to have been the case.
The government caused it
From 2008 until a year or two ago government borrowing was at interest rates that were under 1%. This was even true for long term bonds, although really longer term bonds (30 year treasuries) were up at a massive 2% yield.
As eny fule kno, the wuflu led to the US (and other world) governments printing lots and lots of money and the US government balanced its books in part by borrowing enormous sums of money and issuing medium and long term bonds at these very low interest rates.
The money that the government distributed to businesses was supposed to help them keep the lights on and employees paid even as they worked from home, failed to have customers etc. etc. but a large chunk of it ended up in other places. Some of this was straight up fraud but quite a lot more was more nuanced. It was businesses claiming more money than they really needed because it was basically free and the rules were pretty loose. Lots of small businesses applied for grants and got them and banked much of the money because they didn't need to spend it all at the time. Lots more went in various ways to VCs and the like to fund new startups and small businesses. SVB ended up being the banker for a lot of that money. So much so that SVB more or less tripled in size from $61B of deposits in 2019 to $189B by the end of 2021. It looks like SVB basically got about 5% of all US Wuflu subsidy spending deposited in it in 2020 and 2021.
The problem for SVB was that it had ~$120B of new money. It had no way to invest all of it in its traditional business, basically lending to tech companies mainly to handle short term cash flow bumps and the like, because it was massively too much money.
Well banks get dinged for not working the money they have on deposit by investors and by regulators and so it had to invest all this moolah in something and do so fairly quickly. In addition to various wokey greeny things which were almost certainly poor investments and not very liquid, it bought what seemed like safe and fairly liquid assets, so-called fixed income securities – treasury bonds of various maturities and mortgage backed securities (MBS). In the low inflationary, low interest environment of the 2010s this would have been a fine decision. Sure those treasuries and MBSs paid a fairly low 1-2% or so interest, but they were considered safe because the underlying assets were stable in value – increasing in terms of the property backing the MBSs even – and they were reasonably liquid so you could unload them quickly if need be and not face much of a loss, if any, when doing so. By the end of 2022 SVB had about $115B in these fixed income securities (essentially almost all of the money it had taken in since 2019)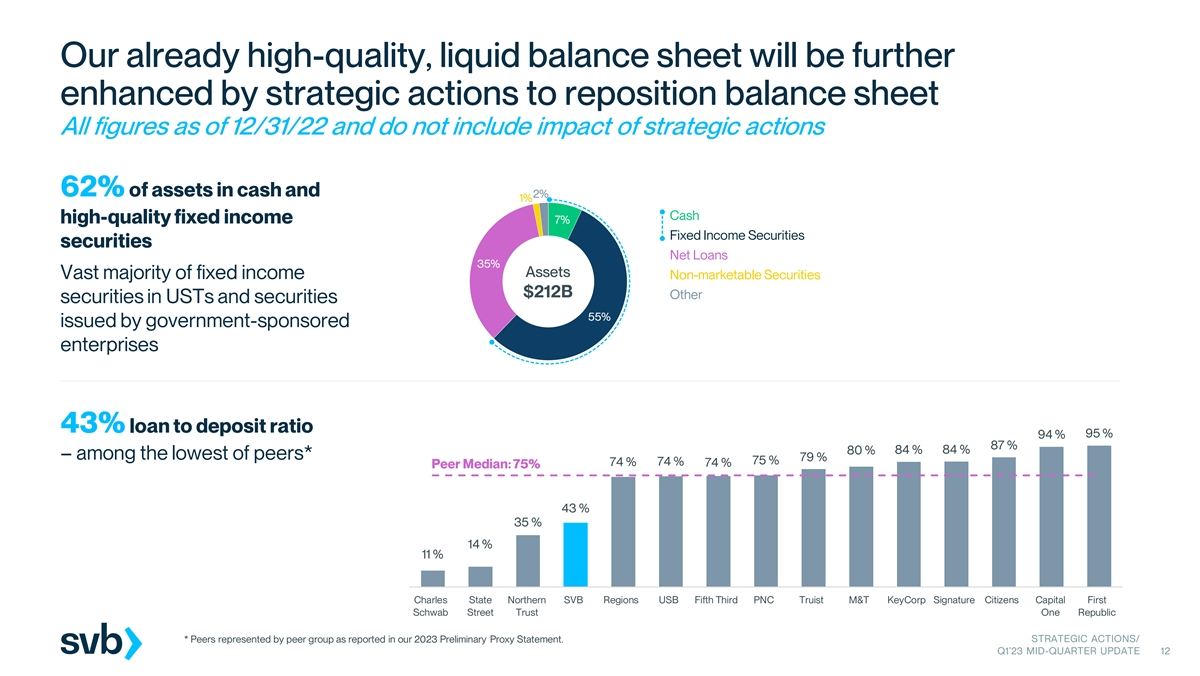 Unfortunately it bought most those assets in 2020, 2021 and early 2022 when interest rates were still in the 1% range but that was about to change. As we know in 2021 inflation started to kick off because of all the loose covidiocy money and a year ago the Federal Reserve started to raise interest rates to try and stop the inflation rate staying high. This abrupt rise in rates from 0.25% in early 2022 to 4.5% now in 2023 has had a number of entirely predictable effects. One effect was that the 1-2% yield securities that SVB had bought declined significantly in value leading SVB (and probably many other financial institutions) to have large unrealized losses. In itself that was not a disaster since if they were held for long enough there was a decent chance that those losses would be recouped as prices increased again.
Unfortunately at the same time the market for IPOs and PE sales of startups collapsed and a significant number of startups found that their product or service was not required by people who now had higher living expenses and the same pay check. This meant that SVB's depositors were steadily taking money out without there being new deposits paid back in. In other words the $120B windfall of deposits was gradually being withdrawn and SVB needed to gradually sell its investment assets so as to cover the withdrawals.
In theory (and indeed according to financial regulations) all SVB needed to do was sell some of its bonds and MBSs so as to reduce its assets as it paid out its depositors. Except that, as noted earlier, those assets it had were now worth significantly less than all the liabilities (deposits) it would need to repay. Moreover enough of the people who had accounts there and/or running/advising corporations with accounts there could take a look at the SVB financial statements and realize that there were these problems and so decided to withdraw more of their money. Eventually almost everyone wanted their money out and there really was no way for SVB to unload tens of billions of dollars of fixed income assets without suffering enormous losses in addition to the ones it had already booked. That was what the emergency sale of $21 billion of bonds at a (further) loss of $1.8 billion showed. Even the proceeds of that sale ($21B ) plus the cash on hand ($14B) was not enough to repay all the depositors trying to withdraw their money.
The nitty gritty details
If you take a look at the image above it shows that going into 2023 SVB had about $14B in cash. That's not unreasonable as it is somewhere between 5% and 10% of total deposits and about the same as in the past. And if the FI assets were actually sellable at around the price paid things would be fine even as deposits decreased. The Q4 10Q filed in November 2022 shows roughly $14B in cash and $177B in deposits at the end of September 2022, down from $14.5B and $189B at end of December 2021.
The decline in deposits (liabilities) in the 10K is noteworthy in that it is on the order of $1.4B/month and assuming that continued at roughly the same rate it would imply that deposits at the start of March 2023 would be around 170B, perhaps a fraction lower. Given the $14B cash on hand in December that is also not bad, if that were the only need for the cash. Unfortunately the 10k shows two other problems. One is a line of "Short-term borrowings" which stood at $13.5B at the end of September 2022 up from a trivial $71M at the start of the year. I can see no note about when that is due to be repaid but "short-term" usually means a year or so at most. Almost certainly this is related to the unrealized losses in the AFS (Available for sale) and HTM (Hold to maturity) assets and, as things developed after September 2022 those numbers almost certainly got worse.
Even at the start of 2022 there were losses in both but the total unrealized losses was something like $1B or less than 1% of the $120B+ total and that sort of loss would normally be easily covered by profits elsewhere. However by September the losses in HTM had ballooned to $16B (out of $93B total) and in AFS they were just under $3B out of $29.5B total. For those struggling to do the sums at home this is comfortably over 15% of the FI portfolio and more than 10% of the total deposit liabilities. One must assume than in the months since September those losses increased substantially. One thing that does stand out is that the bonds were all in the AFS pile and marked to market (i.e. the ~10% haircut from purchase price to sale value in Sept 2022 was already there), while all the MBSs were in the HTM pile.
This is why SVB sold $21 billion of bonds at an additional loss of $1.8 billion – probably this was almost everything in the AFS pile – and why that was nowhere near enough to stop people demanding their money. Note that the book value of that AFS bonds was actually almost $30B so the $1.8B loss was in addition to prior markdowns to around $23-24B, in all SVB probably sold those bonds for 70% of what it paid for them. SVB still has an enormous mismatch between cost and fair market value of its (AFS and) HTM assets and that mismatch (on the order of $20B or more) is way more than the intended ~$2B share offering.
So what did SVB do wrong?
That, as they say is a good question. This article points out that SVB were basically good boys and girls who did not bet the farm on risky things like cryptocurrencies and I agree with it.
Mostly they trusted the government and did what the government (and regulators) told them to do without doing the work to figure out if this was sensible in the longer term (though they probably also lobbied to evade regulations that would cost them profits such as the Basel III ones). That was fatal because covidiocy showed in numerous ways that the government is not smart enough to figure this sort of thing out and in fact will do things that break other parts of the system because the government's "top men" are not in fact top (and probably not men).
It is however very hard to figure out where SVB should have put their unexpected load of new deposits. $120B is a very large amount of money to invest and fixed income securities were good, recommended even, investment choices that were perceived to be low risk. Short of saying "we don't want your money" there seems no way that SVB would not have entered 2022 with a large holding of fixed income securities. It is even harder to figure out where and when they should have moved it out into something else once it became clear that inflation was a thing and that higher interest rates were going to come shortly afterwards. I can imagine them being extremely unpopular with the government if they had started selling their MBSs and bonds in early 2022 and even if they did, it is unclear what they would have invested in instead (banks like Silvergate did invest in crypto and hit other problems).
Will the Bailout work?
We're going to see more of this as the government bails SVB and other banks out. Note that the imbalance between FI assets and liabilities is almost certainly not even remotely unique to SVB. I've seen mention that there are $600B of longer maturity bonds that are underwater (lost the link) and I imagine there's a similar if not larger amount of underwater MBSs. That latter may be even more of a threat since if property prices drop again as in 2008 then the prospect of these MBSs being bad debts grows further depressing the asset price. So far I haven't seen too much sign of people defaulting on residential mortgages. But, given the way the wuflu has led to much more working from home, office occupancy rates are way down and unlikely to recover for a while if ever. Since companies will be leasing less space the owners of now much emptier office buildings are going to struggle to repay the loans they took out to build them. Defaults on commercial property loans therefore seem quite likely.
The government (treasury, federal reserve, SEC etc.) have announced that they will redeem government securities at par value thus removing the losses caused by their 20% or so fall in value over the last year. This appears relatively generous, but if done right (as the UK Bank of England did last autumn) it should stabilize the market without the government actually needing to buy all the securities it says it is willing to. Moreover the government can make a profit by selling the stuff again later, which is something that the BOE also did AIUI.
However I'm not sure how this would actually help SVB. As I noted above in my perusal of the 10Q almost all the long dated treasuries were in the AFS pile and had already had their loss mostly booked while what was in the HTM pile was almost all MBS (about $85B bought, valued at $71B in September and probably less now). SVB simply doesn't have more bonds to sell to the government. The question is how many other banks are more heavily exposed to under water MBSs rather than under water government bonds?
If depositors believe that the money they have in bank accounts is safe enough because enough of the bank's investment assets are government backed then those banks will likely survive. But I imagine many depositors are going to be looking at recent 10Qs to see if they can see large unrealized losses and particularly large losses in MBSs. As we saw at SVB it only needs 10% or so of a bank's deposits to be withdrawn in a short period of time for the bank to need to sell assets. If it then starts having to report losses and more losses the withdrawals will pick up pace and shortly we have another bank run.
My expectation is that we may see a few more banks in trouble but probably not the sort of widespread issues we saw in 2008